The Company operates several nickel mineral properties in the Philippines, which include the Alpha Property, Bethlehem Property and Northern Rio Tuba Property located in Palawan Philippines covering an area of 12,560 hectares (the "Palawan Properties"), and the Borongan-Maydolong Property, Gen. Mcarthur-Llorente Property, Balangiga-Giporlos Property and Homohon Island Property in Samar, Philippines covering an area of 10,150 hectares.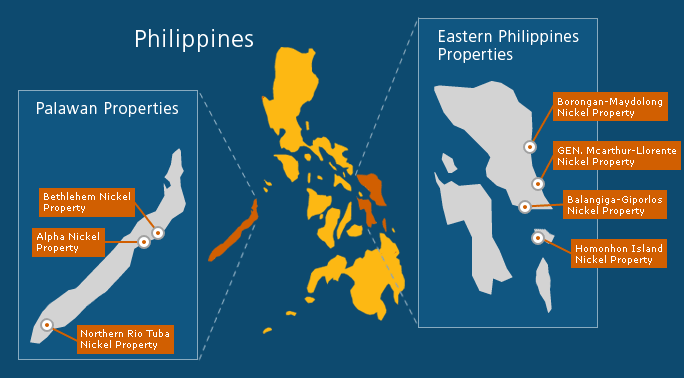 The Company's principal properties, the Palawan Properties, have been sold to DCMI Mining Corporation, a Philippines based mining company for US$25.2 million, subject to certain closing conditions, which include, among other things, the reinstatement of a canceled Financial and Technical Assistance Agreement ("FTAA") granted by the Philippine government in April 2010. The FTAA, if reinstated, would allow large-scale exploration, development and utilization of minerals on the Palawan Properties.

The Company has suspended its exploration and development operations in all of its properties to focus its resources and efforts on the reinstatement of the FTAA in order to conclude the sale of the Palawan Properties.